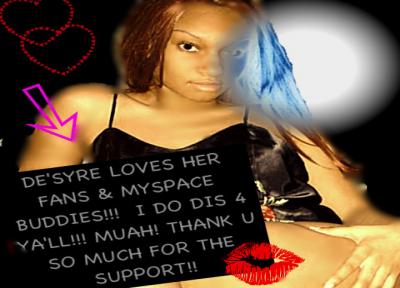 Members
De'Syre
City: Chicago
Country: United States


Promote De'Syre
Paste this html code anywhere that supports HTML

Promote De'Syre
(MYSPACE Comments and Bulletins ONLY) Html:

(Myspace Profile, Blogs and Websites) Html:



Artist Information
BIO *Stormy "De'Syre" Seal, singer/story-Songwriter and Producer was born 1987. A native of the midwest, she was originally born in the small town of Freeport Illinois. De'syre got her head start in the art of music at a very young age singing at the age of 6 and songwriting by 11. As the daughter of musician and singer/songwriter Manuel Seal Jr. De'Syre spent as much time as she could in the studio with her father, and was fortunate and blessed enough to sit in sessions with artists such as the r&b girl group "Cherish" and male R&b singer "Mario" during some of their first up and coming projects. Noticing De'syre's potential, her father sent her to attend artist development classes at age 16 in Lafayette Georgia where she learned about stage presence and proper vocal techniques. At 17 De'syre began professional vocal lessons and recorded her first Demo CD which consisted of 4 songs (Take Me Away, On My Mind, Make Me Cry, and, thinkin' about you.) During the next couple years, De'syre performed in talent shows everywhere she could and participated in an open mic performance while in Daytona Florida. In the year of 2007 De'syre was referred by a friend to a rapper named Boston George who needed a female singer for his song entitled "Journey For Love." After laying the hook she caught the interest of Djp "Emperor p'" CEO of an independent record label called Diesilland Records in Harvey Illinois. She then later signed to the company and became the First Lady and Co- Partner of the label. De'syre is currently finishing up work on her first album "CHI-TOWN SONGBIRD" set to release in 2009-2010, and in preparation of releasing her first single.


Shows
No shows listed


News
No news listed


Influences

Other Information
WWW/MYSPACE.COM/WHATSYOURDESYRE FOR UPCOMING SHOWS AND MUSIC RELEASE INFO!