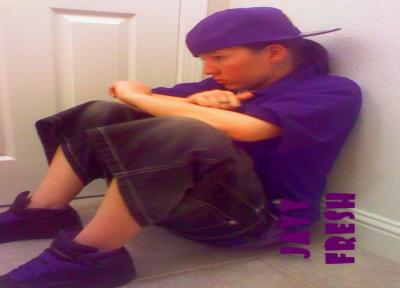 Members
Jayy Fresh
City: Merced
Country: 95301


Promote Jayy Fresh
Paste this html code anywhere that supports HTML

Promote Jayy Fresh
(MYSPACE Comments and Bulletins ONLY) Html:

(Myspace Profile, Blogs and Websites) Html:



Artist Information
Bio Coming Soon!


Shows
No shows listed


News
March 18, 2009
PROMOTIONS!
If you're an artist/producer/dj/model/club owner/etc and would be interested in promotions, send me an email to soso_focused@yahoo.com or send me a message through myspace, myspace.com/65744187. Promotions consist of 1000s of adds/plays/profile views on myspace, your music on major websites, mixtape slots/hostings, radio spins, magazine ads, street teams, etc.




Influences
The people who musically inspire me to not only promote music, but write as well, would most definitely be Jean Grae, Remy Ma, Nas, Biggie, Tupas, Eminem, Papoose, Alicia Keys, Lauryn Hill, and many more.


Other Information