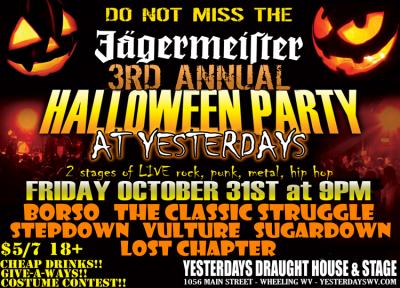 Members
Nick Moore
VOCALS
Ryan Yanock
GUITAR
Cory Passmore
GUITAR
David Voght
BASS
Matt Guthrie
PERCUSSION

Lost Chapter
City: Wheeling
Country: USA


Promote Lost Chapter
Paste this html code anywhere that supports HTML

Promote Lost Chapter
(MYSPACE Comments and Bulletins ONLY) Html:

(Myspace Profile, Blogs and Websites) Html:



Artist Information
The sounds of Lost Chapter echo throughout the hills of the Ohio Valley. Located in a small rural area, Lost Chapter has many influences from all over the world. As is our music, our sights and outlook on life itself are unlimited. Members Nick Moore, and Ryan Yanock were the core members of Menace Blindfold and have since evolved in to the band Lost Chapter with chilling, heroic riffs, and the always amazing and diverse vocals. From Tormented to Tears of the Dying this guy has done it all. Since the age of 14 he has been playing gigs with top notch bands. David Voght is responsible for the heart throbbing, fist clinching bass riffs that make what is Lost Chapter. The other two musicians which make up this incredible, almost symphonic ensemble are known as Corey Passmore and Matt Guthrie. They have arose from the depths of the band Downnshiftt. With a quick and timely drummer that feeds the crowd with back breaking beats, and another heart shredding, ass kicking, guitar line, these two members are quite essential to the incredible sound that makes Lost Chapter. In conclusion Lost Chapter is a strongly motivated and most resilient bunch of men. With the intuitive will to always prevail, Lost Chapter will stand the test of time and bring the truth one note at a time. Enjoy.


Shows
July 26, 2008
BAR FLY
OH YEAH!!!!!!!!!!! FISTICUFF, LOST CHAPTER, STONEFALL, SAPPY BELL, INTEMPERANCE
Read More

July 18, 2008
OUTPOST
TICKETS ON SALE NOW!!!!! CONTACT US FOR INFO!!!!!!
Read More

August 1, 2008
YESTERDAY'S W/HEMLOCK
LOST CHAPTER AND HEMLOCK AGAIN!!!!!
Read More

August 8, 2008
WOODSHOCK
5000 screaming fans!!!!!!! Over 50 bands!!!!! Filter, Bobaflex, LOST CHAPTER!!!!!!!!!!
Read More

August 16, 2006


Read More

September 5, 2008
PROJECT INDEPENDENT
TICKETS ON SALE NOW!!!!! COUNTIES LARGEST METAL SHOWCASING!!!!!!
Read More




News
August 16, 2008
CORY'S BARN FEST CANCELED! MISTRESS JULIYA SHOW BOOKED!!!!!!!
The bad news is Cory's Barn Fest is canceled. The good news is that at Fatt Jimmy's in Kent Ohio Lost Chapter will be performing with the presence of the legendary goddess of Metal , Mistress Juliya! Tickets Presale are $10!!!!! Come hang out and have a beer with us!




Influences
Pink Floyd, As I Lay Dying, Hemlock, Opeth, Fear Factory, Burn in Silence


Other Information