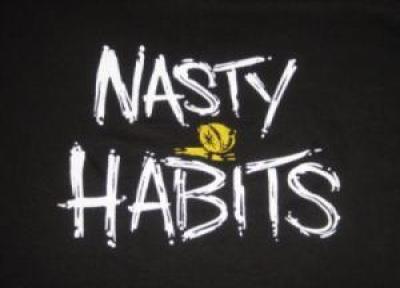 Members
Paul
Justin
George (Paco)
Nasty Habits
City: Concord
Country: U.S


Promote Nasty Habits
Paste this html code anywhere that supports HTML

Promote Nasty Habits
(MYSPACE Comments and Bulletins ONLY) Html:

(Myspace Profile, Blogs and Websites) Html:



Artist Information
In September 2004 We came together to form a powerful, passionate, and explosive sound. Over the course of four months we were hammering out the sound we were looking for; composing and brainstorming to get it all tight and solid. The focus of the band is to bring music to the masses in a wild, crazy and inviting way; blending different genres of Rock n Roll and Metal. Finally, we were able to encompass all of the raw emotion and intensity in a name; and Nasty Habits was born.


Shows
January 13, 2007
Battle of the Bands
Nasty Habits is in the finals for the Battle of the bands! We need your support to get this in the pocket! We hope to see you all there! Rock N' Roll!
Read More




News
No news listed


Influences
Pantera, Black Sabbath, Pink Floyd, Metallica(old metallica), DIO, Iron Maiden, Guns N' Roses, Def Lappard. Judas Priest, Ozzy, Eagles, Joe Satriani, Moterhead, Led Zepplin, Black Label Society, Randy Rhoads, AC/DC, Bryan Adams, Megadeath, Scorpions, White Snake, Winger, Stevie Ray Vaughn and many more!!!!!


Other Information