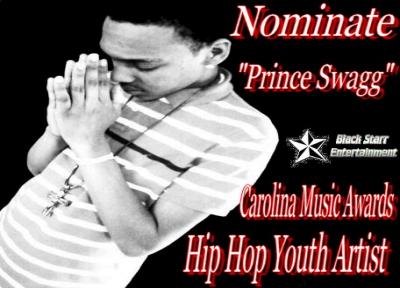 Members

Links
Prince Swagg
City: Raleigh
Country: USA


Promote Prince Swagg
Paste this html code anywhere that supports HTML

Promote Prince Swagg
(MYSPACE Comments and Bulletins ONLY) Html:

(Myspace Profile, Blogs and Websites) Html:



Artist Information
One of Carolina's Favorite Artist "Prince Swagg" most A&R Reps keep a close eye on this future artist straight of North Carolina. Many Record label's contacted Prince Swagg by email, phone and mail. Too name of few labels that contacted him are Slip N Slide, Capitol Records just to name few. Prince Swagg is an artist that likes to be independent and help other people too accomplish their goals. Early in the year of 2010, Prince Swagg had a hit single that hit the charts high on the internet "If You Got It". Swagg says "I want to make music that other people can relate to and make them move their feet as well" Prince Swagg was born Dominique Whitaker, on March 7, 1993 in Greenville NC to Trisha Whitaker as his mother and Timothy Cherry as his father. Prince Swagg real dad never really been there for him. But his step dad that goes by the name Robert Joyner, has always been there for him and his family. His step dad(Robert Joyner) inspried him to make music. He lived in Virginia until the age of 10, then he moved to Raleigh NC. Prince Swagg always loved music and thanks to his dad which always played loud music, and tried to rap when he was a lil boy. Prince Swagg always said "I would never work for nobody" therfore he had that inspiration to start his own business. At the age of 13 his grandmother bought him a little karaoke machine and some blank tapes. He started to record on that karaoke machine to listen to himself on the microphone. At the age of 14 he started to write his own lyrics and trying to find his flow and his style. He tried to find his style by growing up listening to Master P, Lil Wayne, 2pac and many other great artists. When he turned 15 that's when he start to take his music serious. Prince Swagg than met up with his cousin Delquon "Fly Boi Spank" Joyner, they both start to rap together and develop their style. Then they started a play group name called K-Unit, it was like a duo group. They had released a demo called Special Delivery to try to listen to themselves. At the age of 16 Prince Swagg started to take his music career even serious so, him and Fly Boi started another group called Swagg Boyz and the released a debut album called "Freshest Of Them" which hit the charts high on the internet. At the age of 17, Prince Swagg and Fly Boi had split up because a misunderstanding situation. Then Prince Swagg decided to go solo after a show downtown Raleigh at the Pour House Music Hall. Special thanks to K Smooth he came and replaced Fly Boi at the last minute.Prince Swagg and Fly Boi had decided to meet back up and squash the beef they had between each other. Because the realize they was getting to old for that and that they were family members. Prince Swagg had launched his record label called Black Star Entertainment with the partnership under Coalition Corporation. Prince Swagg has 3 artists under his record label that goes by the name of Fly Boi Spank, Blac, and K Smooth. Prince Swagg is now doing shows all over North Carolina and we be all over the world soon. Prince Swagg is now workin on his debut album called "Youngest In Charge", it will be release soon, his album will be the best independent album an artists can ever do, with the collaborations with Tunji from Coalition Corporation, Young Money Makin D, and many more great artists from North Carolina. At Prince Swagg first show performing at the Pour House Music Hall he met Young Money Makin D. Prince Swagg said "Im very exicited about meeting Young Money Makin D and I love workin with him, he is a great artist and engineerer, i love Young Money Makin D as a brother, I'll learned a lot from him and he taught me a lot of new things about the music business and as a rapper". Prince Swagg is now doing more shows and connecting with new artists from around the world.


Shows
No shows listed


News
No news listed


Influences

Other Information