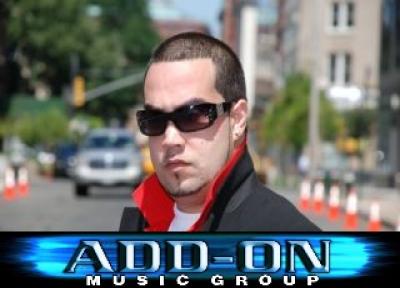 Members

Links
ADD-ON MUSIC GROUP
City: bronx,ny
Country: UNITED STATES


Promote ADD-ON MUSIC GROUP
Paste this html code anywhere that supports HTML

Promote ADD-ON MUSIC GROUP
(MYSPACE Comments and Bulletins ONLY) Html:

(Myspace Profile, Blogs and Websites) Html:



Artist Information
As owner of Unlimited Styles Productions/Add-On Music Group, Add-On started producing at the age of 14 experimenting with a Casio Ctk411 and two tape decks and adding instruments together that's how the name "Add On" was born, with an extreme influence in music at the age of 16 he experienced the feel to work in a professional studio nand developed the skills to be one of the most successful producers in the industry, This Bronx native produces for superstars like Trap from Holla Point ,Tish, K Nine from NSB & Candela . Versatility is the key to success. He first made his name by shaping the sound of Tommy Boy Records in the late '90s through his work with Big Foot, But then he went left—linking up with "Heatta" and releasing one of the most chart topping tracks "Like a Gangster" through one of most respected music websites Broadjam.com converting Add-On as one of the top producers in New York & allowing him to place music in successfull tv shows & films such as MTV "Road To Menudo", The Oprah Show & much more. Throughout the years growing up in the bronx Add-On learned the art of playing piano under his grand mother's care & has kept his creativity front-and-center with his first installment coming this year "Los Locos Tambien Comen" the official Lokixximo album, where he displays his own amazing production skills throughout the entire project next to an all-star lineup, some of his most successful hits to date includes, "Reggaeton Pesao" , "Chimichurry", No llores mas" and "Noche Loca", with more hits coming under his belt, Add On Music in a short period time will be consider one of New York's legendary producers in the game.


Shows
No shows listed


News
No news listed


Influences

Other Information