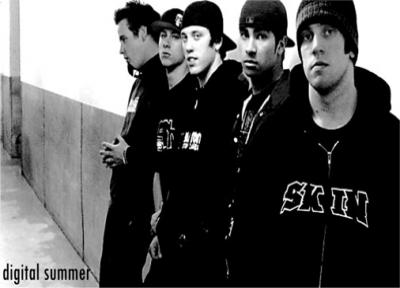 Members
Digital Summer
City: Phoenix
Country: united states


Promote Digital Summer
Paste this html code anywhere that supports HTML

Promote Digital Summer
(MYSPACE Comments and Bulletins ONLY) Html:

(Myspace Profile, Blogs and Websites) Html:



Artist Information
"RAW EXCITEMENT"
- Get Out Magazine

"STRONG and ENGAGING! Memorable only after one listen, and that's really what it's all about."
- Taxi A&R

"HIGH ENERGY"
- Nightlife Magazine

"One word... AMAZING!"
- Kronik Energy Drink

"Fan favoites with a great live show; Packed floor to rafters every time!"
-Fitz Madrid, DJ 98KUPD

"They're going HUGE!"
- Larry Elyea, Mindseye Digital

"Digital Summer is the kind of band that grabs at your throat and won't let go... real talent with a real following. I can't wait for the next show!"
- Cori James, 103.9kedj Morning Show

"Full of emotion, raw energy, along with harmonious tunes, that are sure to make anyone hit the repeat button on their CD player!"
- Jerry Manley, The Voice Magazine

"Truly a hard-working band who won't take "no" for an answer when it comes to showing the world their passion for making great music in today's stagnant rock scene."
- ShanMan, DJ 98KUPD

Made up of heavy/melodic guitars and raw emotional vocals, Digital Summer creates an edgy, powerful, yet soothing tone for a radio friendly world. Influenced by multiple music genres, Digital Summer is not a "trend" band and has been referred to as

"Modern hard rock bliss!"
- One Night Stand Presents.

Digital Summer is a unmistakable five piece band originating from Phoenix, Arizona dedicated to making a name for themselves in the industry. In a little over a year, Digital Summer has made an impressive impact on the music scene with their professional songwriting ability and aggressively entertaining live show.

" I couldn't wait to push my way front and center!"
- Kate Davenport, Static Management

Digital Summer has played numerous shows throughout the Southwest, filling venues to capacity, and are now looking to take their music to a national level. Having established a large local fan base and regional distribution of over 75,000 copies of their debut EP, Digital Summer has merely begun to create a name for themselves in todays music industry.

This is DIGITAL SUMMER.


Shows
November 16, 2007
DS @ the Venue of Scottsdale
DS, Giantkiller, Signs of Betrayal, Denial Method, Versed in Grey, and Awaken the Fallen! Celebrating Minds Eye Digital Recording studios 15 year Anv. This show is gonna be insane!
Read More




News
No news listed


Influences
Staind, Cold, Chevelle, Trapt, Sevendust, Red, Breaking Benjamin, Papa Roach, anyting bad ass!


Other Information