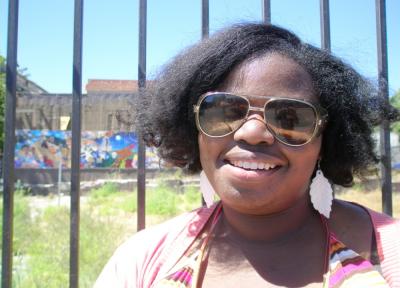 Members
Dom Jones
Musician/Emcee/Singer/Poet

Dom Jones
City: Bay Area
Country: United States


Promote Dom Jones
Paste this html code anywhere that supports HTML

Promote Dom Jones
(MYSPACE Comments and Bulletins ONLY) Html:

(Myspace Profile, Blogs and Websites) Html:



Artist Information
Dom Jones extracts the prose of poetry, the honesty of soul, and the aggressiveness from hip hop and navigates all three genres in what is to become a brilliant career. Her humble beginnings find her in a small East Oakland church giving her first solo. From there, Dom Jones has grown into an intelligent, talented young phenom who is ready to blaze the mainstream with her relatable lyrics and heart-wrenching delivery. Having always been an organizer, Dom Jones pushed forward her high school's poetry team in momentous fashion, taking what Jesse Bethel High School called THE WRITTEN REVOLUTION, to a new arena. Through her work with Written Revolution, Dom Jones was able to connect with Youth Speaks, the top non-profit literary arts organization in the country, to begin her career in poetry slamming. Becoming a 2005 and 2006 Youth Speaks Slam Champion and team member, Dom went on to win the Int'l Youth Speaks Slam with the Bay Area Team performing at the APOLLO THEATRE in New York at the finals. Dom Jones solidified her mark in Youth Speaks, interning with the organization throughout the summer, and participating in the school visit program where she spread the message of bringing literary arts into school curriculums. In her time at Youth Speaks, Dom connected with Corina Peila aka Coco to form the dynamic duo CocoNique, who has been storming the BAY AREA as a female emcee collective for almost two years. Dom Jones also worked extensively with Ise Lyfe and Lyfe Productives, creating a brilliant marketing strategy for said artist, and promoting his first album spreadtheWORD and mixtape Forward Ever Vol. 1 with staggering success. She is known as one of Ise Lyfe's biggest supporters and contributors and in her contributions to his work as an activist and artist, she has made way for herself to become known as a dedicated community activist and a budding emcee, singer, and poet. Now with many years of experience in performance, event production, promotion, and marketing under her belt, Dom Jones is finally recording her first album! With her partner in business, Will Bracy, producing most of the tracks, this album is assured to be one of the most triumphant offerings in years. To book Dom Jones, please send all inquiries to domjonesmusic@gmail.com


Shows
November 22, 2008
ILL ONES, Entertaiment Presents: THE FUNCTION

Read More




News
July 27, 2008
Bracy & ID Album AVAILABLE NOW!!!
Buy it online at www.myspace.com/bracyid




Influences
Will Bracy, Do DAT, Stevie Wonder, Jay-Z, Chaka Khan, Donny Hathaway, Isaac Hayes, Nina Simone, Sarah Vaughn, Nas, Rakim, and any more.


Other Information
Dom Jones in the IMAGINE PEACE Series: