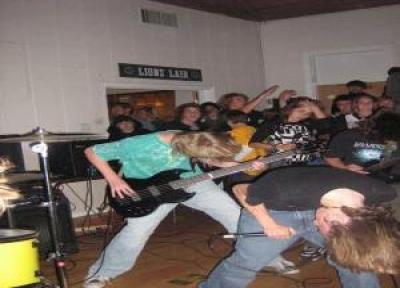 Members
Danny Weir
VOCALS-FILL IN
Courtney Pazin
VOCALS
Dominic Smith
RHYTHEM/LEAD GUITAR
Mike Klonoff
RHYTHEM/LEAD GUITAR
Evan Layman
BASS

Fistful of Sutures
City: Burlingame
Country: USA


Promote Fistful of Sutures
Paste this html code anywhere that supports HTML

Promote Fistful of Sutures
(MYSPACE Comments and Bulletins ONLY) Html:

(Myspace Profile, Blogs and Websites) Html:



Artist Information
We are Fistful of Sutures. We kinda started up around March 2005 but didn't really get started until around September 2006. We are a Metal/Hardcore band from the bay area. Come watch us at shows.


Shows
No shows listed


News
December 8, 2006
Danny Larosa is moving
We are in search of a new drummer...contact us if your interested.




Influences
As I Lay Dying, Killswitch Engage, The Acacia Strain, Mastodon, Unearth, Darkest Hour, Lamb of God, Pantera, Etc...


Other Information