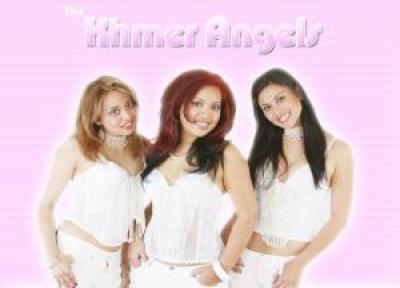 Members
Khmer Angels
City: Long Beach
Country: USA


Promote Khmer Angels
Paste this html code anywhere that supports HTML

Promote Khmer Angels
(MYSPACE Comments and Bulletins ONLY) Html:

(Myspace Profile, Blogs and Websites) Html:



Artist Information
We're Khmer/Asian girls from Southern California that formed a group over 6 years ago called the "Khmer Angels"Our names are Lisa and Somalis and the 3rd angel is usually a Guest Singer/Dancer. Our latest addition to the group is "Guest Khmer Angel" Rei. This coming year is going to be a very exciting time for our group as we get ready for a "Come Back Tour" . . . back by popular demand from a planned retirement and we're doing it BIG this time around! We're working on a lot of new music for our fans . . .and collaborating with some HOT up and coming new artist such as V8 and our good friends, Universal Speakers. Our new album will have our traditional Pop styles with a little R&B, Hip-Hop and Dance music! We're all excited and we hope you fans out there are too!! : ) Quick "Shout Out" to all that have made this year so far a great success!! First and foremost - KBN-TV for inviting the Khmer Angels to host Long Beach's community show "Life & Style with the Khmer Angels." Also all the support from other artist like V8 and the Whole Buddah Loverz Production Crew (Thanks Jeep!!), Universal Speakers, Timmy (our P.R" guy), Bong Alex (Producer of "Life & Style with the Khmer Angels," and especially a BIG THANK YOU to all our fans for the Luv & Support that all of you have shown . . . it's much appreciated and never forgotten. - And to those of you who are wondering . . Yes, we personally answer all your messages, emails, and comments!! So Thank You! Thank You! Thank You! Much Luv, Lisa, Somalis, and Rei "The Khmer Angels!"


Shows
No shows listed


News
No news listed


Influences

Other Information