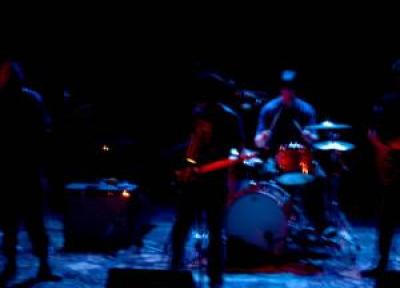 Members
Kevin Cameron
Composer, Arranger and Producer
Zach Partridge
Drums, Arrangement

Never Knows Best
City: Santa Cruz
Country: USA


Promote Never Knows Best
Paste this html code anywhere that supports HTML

Promote Never Knows Best
(MYSPACE Comments and Bulletins ONLY) Html:

(Myspace Profile, Blogs and Websites) Html:



Artist Information
Kevin Cameron started Never Knows Best in early 2005, in the wake of maniacal art rock/noise outfit The Miskatonic's hiatus. Equipped with a 4 track Tascam recorder and a total lack of knowledge of musical composition, Kevin began to record early demos of such tracks as 'Jetlag' and 'Benchrot.' Kevin Enlisted Miskatonic drummer and longtime band mate Zach Partridge to record drums on the early tracks, and soon the early raw cuts that later turned into the tracks on the single run, self titled full length record began to take shape. Kevin and Zach recorded two sets of demos, the second aptly titled the 'Punchdrunk' demo sessions. After sorting through a mess of 15 songs, the recordings were scaled down to 9 tracks, and in October of 2005, Kevin and Zach sat down to record the instrumental tracks for the self-titled album. After numerous equipment failures and the composition of the two songs 'All-Stars' and '4 Nights,' Kevin finished the vocal tracks and the final mixes for the master of the record. Never Knows Best was released on April 16th, 2006, and enlisted guitarists Sam Rosenzweig and Jeff Castro to perform as members of the live interpretation of Never Knows Best. We are currently working on the yet to be named concept record.


Shows
No shows listed


News
December 29, 2006
To Press Record
We are heading up to our studio in Ukiah on the 2nd of December to start recording the drum tracks for the first part of our yet to be titled concept album. The tracklisting thus far (with working titles) is as follows:

Mad Scientist Pop (Overture)
This Relayer
Benchrot
Lethargy
The FogmenBogmen
Decayed
Untitled 1
Substandardize
The Interminable Affairs of the Mad Scientist (Underture)
Failsafe
Untitled 2

Songs not to be on the new record but still to be (re) recorded are:

1,000 Years Can't Be Wrong
All-Stars

Additional Instrumentation and Vocals will be provided by Roger Goodman (The Miskatonic, Babeaux Ultrafox, Bears over Suburbia), Gracie Shatz, and Dain Fowler (The Scuba Kids).




Influences
Les Savy Fav, Dinosaur Jr., Sonic Youth, The Pillows, King Crimson, Fucking Champs, Fugazi, Beck, Ghinzu, dEUS, Radiohead, Drive Like Jehu, System of a Down, Yes, Eleven, Mauro Pawlowski/Evil Superstars, Idiot Flesh/Sleepytime Gorilla Museum, Damiera, Refused, Number Girl/Zazen Boys, Deerhoof, Mclusky, Cursive, At the Drive-in/The Mars Volta, Miracle Chosuke.


Other Information