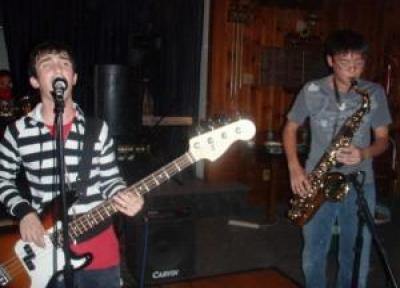 Members
Chris Lee
I play guitar and sing. I like to write music
Bryan Skop
I play the Drums in the band.
Brad Rosenberg
I play Bass and do back-up singing.
Alex Eim
I am the horn player (saxophone).
Brian Kwak
I am the keyboardist/second guitar player.

Ska Kid And The Suburban City
City: Closter
Country: United States


Promote Ska Kid And The Suburban City
Paste this html code anywhere that supports HTML

Promote Ska Kid And The Suburban City
(MYSPACE Comments and Bulletins ONLY) Html:

(Myspace Profile, Blogs and Websites) Html:



Artist Information
We are Ska/rock band from Bergen County, New Jersey. After years of switching players and adding more people to the band, we think we now have a good thing going where we can practice everyday and play shows. We have played many local shows, at parties, clubs, local halls, but now we are looking to play in areas further away to expand our fanbase.


Shows
December 8, 2006
GSA Show
Gay/Straight Alliance charity show at Tenafly High School with Garden State.
Read More

January 2, 2007
Tenafly Elks Club
Show with Off Broadway, Shiver Shiver Shake, Garden State, Darpinian, The Fabulous Funky Freedom. !5 DOLLARS!
Read More

January 13, 2007
Cagney's Pub & Grill
ALL AGES SHOW W/ FLAT SODA AND NO RiSK. !$10!
Read More




News
No news listed


Influences
Reel Big Fish, Catch 22, The Beatles, The Pixies, Operation Ivy, Big D and The Kid's Table, NoFX, Awful Waffle, Sinister of the Evangeline, The Specials, Mustard Plug, Rx Bandits, Suburban Legends, Flogging Molly, Suicide Machines, Forces of Evil, Littlest Man Band, Bob Marley, Tom K, Aaron Barret, and more.


Other Information