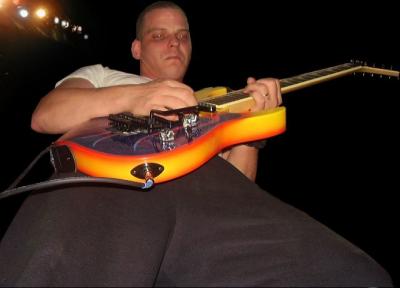 Members
Tommy Gardner
Lou Stone
Alex Steele
Alton Butler
TJ Gardner
City: Star Tannery
Country: United States


Promote TJ Gardner
Paste this html code anywhere that supports HTML

Promote TJ Gardner
(MYSPACE Comments and Bulletins ONLY) Html:

(Myspace Profile, Blogs and Websites) Html:



Artist Information
Biography Tommy Jay Gardner (born on December 30, 1974, in Winchester, Virginia, U.S.) is an American guitarist and drummer. His debut CD, livefire in 1993, opened his way into a world of instrumental rock music in what was then a pop-dominated world. Influenced heavily by Joe Satriani, Def Leppard and Pink Floyd, TJ Gardner often incorporates a warm sound of guitar with a dominant melodic rock tone. Since 1993, he has used Ibanez guitars, until 2004 when he switched to Jackson guitars. TJ Gardner also has used Tama series drums since the 1980's, until 2005 when he switched to Peavey. In 1987, Gardner as a young teenager at that time was recruited by several local bands in his hometown of Keyser, West Virginia. Later in 1993, Gardner Started writing and composing his own material which would get him to were he is today. TJ Gardner was inspired to play guitar at age 14 after learning of the death of Def Leppard guitarist Steve Clark. He heard the news after waking up and hearing the news over the radio, where he decided to learn Steves style in playing, and try to carry on that sound. In 1993, TJ Gardner released his debut CD livefire. The album did not sell well, particularly due to equipment issues, and only selling it locally. "Moving up" was featured on the album. "The path" was also featured on this album. In 1996, TJ Gardner joined up with the band Dreamscape, they compiled a wide list of music however the band went different ways before releasing an album. In late 1997, TJ Gardner joined Stomp Faction as a short-term drummer during the band's final years only releasing one Cd before hanging it up. In 2003, he started working on new music, a concept of making a come back after the huge disappointment of livefire. He decided to make an album featuring not just new music, but songs he felt should be heard from his livefire project. Over the next several years, TJ Gardner regularly recorded new music, including updated tracks "moving up", "the path", "tears of the angels", "Never 2 things the same", and "in the dark". In 2006 Gardner joined up globally with independent musicians RedeyeC, Valkir, Paul Oakley with the international musicians group M3. M3 recorded and released back to back #1 hits on the Internet to become one of the fastest growing unsigned bands on the net. On July 5, 2006 TJ Gardner released his long awaited CD crush. In 2007 Gardner compiled several tracks unreleased for the crush CD, the CD was called out of this world, also Gardner had joined up with former band mates Lou Stone from Dreamscape, along beside his brother John Gardner to form the band Thorezeen. Thorezeen's line up consist of Gardner going back to playing drums. Thorezeen has recently switched bassist, John Gardner was replaced by Alex Steele. Thorezeen has been working on their debut album entitled highly medicated. Since then TJ Gardner has been out of the scene, still writing music on the side. Who knows what you can expect, keep checking back for future updates. TJ Gardner is also credited on many other albums, including guitar duties and artwork on RedeyeC's album collaborations, Drums on Stomp faction's 1997 self debut album. Technique and influence TJ Gardner is widely recognized as a highly melodic guitarist and has been described as a virtuoso. He has mastered many performance techniques on the instrument. His success is notable in a genre typically unfriendly to instrumental musicians, and is highly recognized by the underground of independent artist. Gear TJ Gardner has endorsed Ibanez and Jackson guitars, and Tama and Peavey drums. TJ Gardner has used Crate guitar amps over the years. His effects pedals include Digitech, and boss. Discography Livefire 1993 Crush 2006 Out of this world 2007 With other artists Year Artist Album 1997 Stomp faction Stomp faction 2006 RedeyeC Collaborations License this music for commercial use through Pump Audio This work is licensed under a Creative Commons Attribution 2.5 License Copyrightę 1993-2008 TJ Gardner, Thorezeen, & M3 all rights reserved


Shows
No shows listed


News
April 7, 2008
Three new videos added
TJ Gardner has released three new videos for tracks off his crush album.




Influences
Joe Satriani, Def Leppard, Pink Floyd