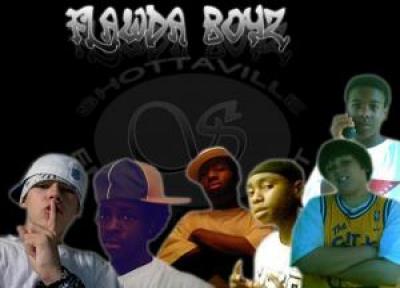 Members
Lil' Rod
Ironik
Baby Boy
Lil' Murk
Lil' Von
Yung Clip
Flawda Boyz
City: DeLand
Country: USA


Promote Flawda Boyz
Paste this html code anywhere that supports HTML

Promote Flawda Boyz
(MYSPACE Comments and Bulletins ONLY) Html:

(Myspace Profile, Blogs and Websites) Html:



Artist Information
The Flawda Boyz have been together or more than 2 years. They were all just a group of kids who liked to listen to beats and try to spit to them. Then just out of nowhere they became the Flawda Boyz. They would always record on a computer mic before they started to blow. Now they get studio time and even have a litle studio like program and equipment at their own houses.


Shows
No shows listed


News
April 26, 2007
We Done Dropped
We finally got signed by Shottaville Entertainment




Influences
Well our influences are Trill Fam, Jeezy, and Lil' Wayne


Other Information
We stay in DeLand, FL